The English Concert with artistic director Harry Bicket is delighted to announce a series of concerts from 1-15 October 2020. The concerts take place in historic venues with star soloists and will be performed and streamed live to a paying audience at 7pm GMT on each performance date. The programmes include first-class vocal and instrumental works from the two pillars of the English Baroque, covering different aspects of the repertoire.
A newly discovered work by Purcell for two tenors, bass and continuo, will be given its first modern-day performance by Anthony Gregory and Hugo Hymas. This programme will be presented in association with Purcell scholar Rebecca Herissone and the University of Manchester.
Other soloists include Sophie Bevan, Iestyn Davies, Lucy Crowe, Julia Doyle, Carolyn Sampson, Mark Padmore, Soraya Mafi, James Way, and Dame Sarah Connolly, and principal guest director Kristian Bezuidenhout and founder Trevor Pinnock.
'The musicians of The English Concert are delighted to resume live music-making after such a long time, and it's a particular pleasure to do so with such an exceptional line-up of soloists – both long-term collaborators and wonderful new talent. We are looking forward to performing a rich selection of Baroque music, including masterpieces by both Handel and Purcell, and it's deeply exciting to present a Purcell premiere.'
Harry Bicket, artistic director of The English Concert
The series opens with a partial recreation of Handel's first concert for the Foundling Hospital. Following a series of benefit performances from 1749 onward, Handel became connected with the Foundling Hospital in Bloomsbury, a home for sick, orphaned and abandoned children. Including excerpts from the oratorio Solomon (1748), this programme features music drawn from Handel's first concert for the Foundling Hospital. This concert will be free to watch, and the audience will be encouraged to donate.
Soprano Lucy Crowe performs a selection of Handel's Italian works including the cantata Armida abbandonata in an intimate recital at Somerset House. The programme will also feature music by Johann Ernst Galliard, Chapel master at Somerset House and Handel's principal oboist.
Iestyn Davies performs a concert of Purcell's solo songs in the Great Hall at Eltham Palace including the extensive masterpiece 'O Solitude', set to three verses of a poem by Katherine Philips.
Trevor Pinnock directs a performance of works by Purcell and Handel written for the domestic market.
The final programme examines Handel's interest in Milton. Handel seems to have first become captivated by Milton's poetry following an evening in November 1739 spent with Lord Shaftesbury, when the host's brother-in-law read aloud the entirety of John Milton's epic tragic drama Samson Agonistes. The interest this experience sparked in Handel for Milton's poetry resulted in some of his most ambitious vocal music — first in L'Allegro, il Penseroso ed il Moderato (1740) and ultimately in Samson (1743), set to a libretto adapted by Newburgh Hamilton. With Carolyn Sampson and Mark Padmore, two of the most accomplished Handel singers active today, in this final programme from St Giles's Cripplegate Church (where Milton is buried) we trace how Milton's poetry inspired Handel to use music as a means of advancing and extending poetic meaning.
Full concert details are below.
https://englishconcert.co.uk/diary/ for details and tickets
The English Concert hello@englishconcert.co.uk +44 (0)20 3962 2322
Press enquiries to Anna Kenyon press@englishconcert.co.uk 07525361894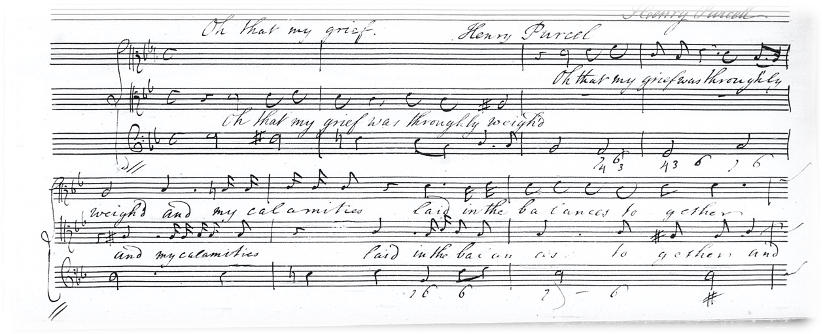 Handel the Philanthropist | Great Hall at Bart's Hospital | 1 October 2020
Partial recreation of Handel's first concert for the Foundling Hospital. This concert will be free to view. Viewers will be encouraged to donate.
In association with Bart's Heritage
Soloists Sophie Bevan, Soraya Mafi, James Way, Dame Sarah Connolly
Director Harry Bicket
Programme: GF Handel Selections from 'Solomon' (1748)
Foundling Anthem HWV 268
Purcell – O Solitude | Great Hall at Eltham Palace | 4 October 2020
In association with English Heritage
Soloist Iestyn Davies
Director Harry Bicket
Henry Purcell Golden Sonata, Chacony in G minor, O Solitude, Sonata in 4 parts in E flat, Evening Hymn
Purcell – Odes for a Queen | St John's Smith Square | 6 October 2020
Including a newly discovered devotional song by Purcell for two tenors, bass and continuo. Also the uncorrupted version of 'Come Ye Sons of Art'.
In association with the University of Manchester
Soloists Hugo Hymas, Anthony Gregory
Director Kristian Bezuidenhout
Programme Henry Purcell Ode – Love's Goddess sure was Blind, Oh that my grief (newly discovered piece) Since God so tender a regard, Ode – Come Ye Sons of Art
Handel the Italian | Somerset House | 9 October 2020
In association with Somerset House
Intimate recital featuring Italian works.
Soloist Lucy Crowe
Director Harry Bicket
GF Handel Overture to Rodrigo, Alpestre Monte, Lascia la spina, Armida abbandonata
JE Galliard Bassoon Sonata no 2 in G
Purcell & Handel – Music, Home & Heritage | Boughton House | 13 October 2020
By the end of the 17th century, numerous pieces of music were published for the domestic market.
Director Trevor Pinnock
Purcell Suite of theatre music (Gordian knot untied, Old bachelor, Married beau…)
Handel Sonata in G minor from op.2
Handel Sonata in G opus 5/5 (Athalia, Il parnasso in Festa etc)
Handel & Milton | St Giles-without-Cripplegate | 15 October 2020
Taking place from St Giles Cripplegate which hosts a statue of Milton. Music from L'Allegro, il Penseroso ed il Moderato and Samson.
Soloists Carolyn Sampson and Mark Padmore
Director Harry Bicket
GF Handel Concerto Grosso Op 6 No 5 in D Major (with winds), selection from 'Samson', selection from 'L'Allegro'
Thomas Arne 3 dances from the Masque of Comus
The English Concert hello@englishconcert.co.uk +44 (0)20 3962 2322
Press enquiries to Anna Kenyon press@englishconcert.co.uk 07525361894